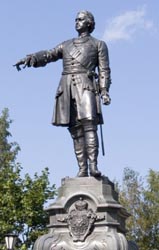 RCDL 2009
RCDL 2009
- the Eleventh conference of the RCDL series took place at the Petrozavodsk, Russia on September 17-21, 2009. RCDL 2009 was hosted by
the Institite of Applied Mathematical Research of the Karelian Research Centre of RAS
and
Petrozavodsk State University
The history of
Petrozavodsk
is originally connected with the name of Peter the Great. In 1703, the year St. Petersburg was also born, Petrovsky plant was founded on bleak banks of Lososinka River.
DAMDID 2022

October 4-7
Saint-Petersgurg, Russia
Submission deadline:
April 22, 2022.
RCDL 2009 program included 59 presentations as well as 3 posters selected from 68 submissions.
Conference materials